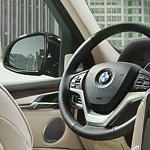 Sport-activity vehicles are becoming more prevalent in society today because they can serve multiple purposes. The 2020 BMW X5 isn't an exception to the rule and for good reasons. This particular SAV is loaded with fine components that will enhance your driving experience. Check out some of the vehicle's top features by reading below.
The 2020 BMW X5 starts out by offering as much as 72.3 cubic-feet of cargo space in total. If the rear seats aren't let down, then you can expect to receive about 33.9 cubic-feet of cargo space. There are also dual touchscreens that are loaded with priceless information, settings and apps. The 2020 BMW X5 goes even further by offering Remote Engine Start. Premium leather seats will provide high levels of comfort, and five people can seat in the cabin.
There you have it. The 2020 BMW X5 wants your attention, so head over to our showroom today.