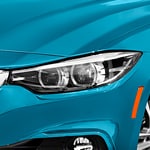 In the luxury vehicle world, BMW is one of the most respected brands. Within the BMW brand, the 4 Series coupe stands apart for many reasons. Let's take a look at what makes the 4 Series a special vehicle.
The BMW 4 Series comes with the power that you need to give you a spirited drive on any road. That power comes from an inline six-cylinder engine that provides you with up to 320 horsepower. This power is designed to come quickly and give you the acceleration and passing speed that you need. Along with this amazing speed, the BMW 4 Series delivers incredible driving feel thanks to its perfect 50/50 weight distribution. This design allows the 4 Series to be a top performer on curvy roads with precise steering and superior handling.
Discover why the BMW 4 Series coupe is a leader in its segment. You can view our collection of brand new 4 Series BMWs at i.g. Burton BMW today.