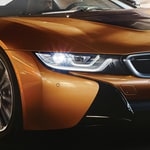 If you're in the market for a new high-performing sports coupe or roadster, it's time to meet the BMW i8. We here at i.g. Burton BMW are excited to bring this well-designed offering from BMW to Milford, and we're sure that you'll like the i8 as much as we do.
The i8's exterior was created to make a lasting impression. Black accents on the hood and rear deck contribute to the chassis' already chiseled, aerodynamic appearance, and the unique scissor-action doors provide access to the comfortable, well-appointed cabin and look great while doing so.
Carbon fiber construction used in the i8 adds strength and stability while subtracting weight and improving performance. Power is generated by an electric motor in front and a gas-fueled engine in back that combine to deliver almost 370 horsepower for tackling city streets, conquering the open road or making a lasting impression on a closed track or racecourse.