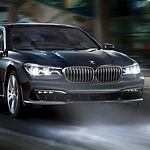 One of the hottest luxury sedans that money can buy is known as the BMW 7 Series. This amazing car comes in a full size, and it's loaded with an abundance of features. Creating the best driving experience is the name of the game, and the 7 Series certainly delivers on all promises.
The 2020 BMW 7 Series will come in a number of trims. This includes the 740i, 745e, 750i, Alpina B7 and M760i. Each trim level has its own personality to a certain degree. Forced induction enhances the car's engine capability. This includes turbocharging and twin-turbocharging aspects. All-wheel drive is another component as the engine power will be thrusted to the wheels if traction is lost. The BMW 7 Series goes on to display a huge front grille and updates styling for its exterior.
Hit us up at our location if you would like to test drive this luxurious machine.